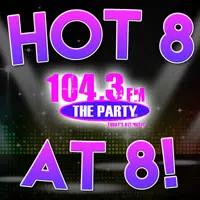 Happy Tuesday!  Welcome back to the Night Club and your next edition of The Hot 8@8 Countdown, Rickie From the Weekends here filling in for Carman tonight! The results were shaken up a bit from last night's…  There was a changing of hands in the top 3 slot! Check out tonight's results below:
1. "Young Blood" – 5 Seconds of Summer
2. "Better Now" – Post Malone
3. "Bed" – Nicki Minaj feat. Ariana Grande
4. "Dinero" – Jennifer Lopez feat. DJ Khaled & Cardi B
5.  "Remind to Forget" – Kygo feat. Miguel
6. "Drew Barrymore" – Bryce Vine feat. Wale
7. "I Like It" – Cardi B
8. "Lie" – NF
NF is back on the countdown once more! "Bed" nudges "Dinero" out of the top three.  Still,  Number One belongs to the guys of 5 Seconds of Summer! Keep voting weeknights if you would like to see their reign continue…cast your ballot from 5-7:30 p.m. CDT by either calling 217-844-HITS, texting 217-218-0288, or by leaving your vote at The Party's Facebook Page!