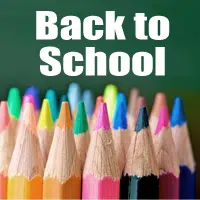 Here are a few tips for saving money on back-to-school shopping.  Splurge on things that will last, like backpacks and laptops . . . price match by comparing prices at different stores . . . and team up with other parents to buy in bulk.
Shop on tax-free holidays.  Fourteen states are having sales tax holidays this month, where you can purchase certain back-to-school items without paying sales tax. (Check out whether your state participates here.)
Splurge strategically.  According to a recent survey, 66% of parents admit to splurging on clothes during back-to-school shopping and 50% splurge on school supplies.  But spending a ton on pens or the latest fashion doesn't make sense.
Instead, spend where it counts on the things that last for a while.  A high quality backpack or laptop can last your high school kid until college.
Price match before and after shopping.  Price matching is where you compare the price of an item at several stores and ask them to match a lower price.  And 10% of parents never do it.
Team up to buy in bulk.  Those classroom supply lists can get pretty long, and lots of other parents have the exact same list.  So team up with other parents in your child's class, and purchase the supplies in bulk.
Wait to buy some items.  Your kid doesn't need a brand new wardrobe or a year's worth of supplies on the first day.  By waiting on some purchases, you can spread the cost across several months and possibly get better prices. (NerdWallet