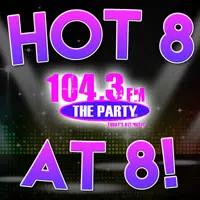 Monday, August 13th, welcome back to The Night Club and Carman is so excited to be back with you tonight! Hope you had a great weekend and of course we have to get to your Hot 8@8 Countdown with Smoky's House BBQ in Charleston! Now last week Drake was a dominate force with "In My Feelings" until that all changed Friday night…because Bebe Rexha took over the #1 spot with "I'm a Mess." See below to see if she can go 2 nights and start a new week off strong.
1. "I'm a Mess" – Bebe Rexha
2. "No Brainer" – DJ Khaled feat. Justin Bieber, Chance the Rapper & Quavo
3. "In My Feelings" – Drake
4. "The Way I Am" – Charlie Puth
5. "God is a Woman" – Ariana Grande
6. "Side Effects" – Chainsmokers feat. Emily Warren (Debut!)
7. "Solo" – Clean Bandit feat. Demi Lovato
8. "Lucid Dreams" – Juice Wrld (Debut!)
Quite a show tonight, two new song entries from Juice Wrld and Chainsmokers, a big move for Ariana Grande and DJ Khaled however #1 for a second time is Bebe Rexha! Please remember weeknights you can help decide the outcome by casting your ballot. Please do so from 5-7:30 p.m. CDT by either calling 217-844-HITS, texting 217-218-0288, or by leaving your vote at The Party's Facebook Page!