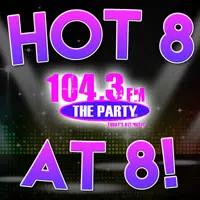 Tuesday, August 14th! Welcome to The Night Club with Carman and another round of The Hot 8@8 Countdown with Smoky's House BBQ in Charleston!!! Last night as we kicked off a new week we saw two new entries and a second night at #1 for Bebe Rexha with "I'm a Mess." See what your votes helped determine tonight….
1. "No Brainer" – DJ Khaled feat. Justin Bieber, Chance the Rapper & Quavo
2. "In My Feelings" – Drake
3. "I'm a Mess" – Bebe Rexha
4. "God is a Woman" – Ariana Grande
5. "The Way I Am" – Charlie Puth
6. "Side Effects" – Chainsmokers feat. Emily Warren
7. "Lucid Dreams" – Juice Wrld
8. "Solo" – Clean Bandit feat. Demi Lovato
No new entries tonight, but we do have a new song at #1!!! After just 2 nights at the top Bebe Rexha takes a step back and makes room for the four-man collaboration group known as DJ Khaled, Justin Bieber, Chance the Rapper and Quavo! That marks one night at top…tomorrow you can help keep it or change it. Please remember to vote weeknights from 5-7:30 p.m. CDT by either calling 217-844-HITS, texting 217-218-0288, or by leaving your vote at The Party's Facebook Page!