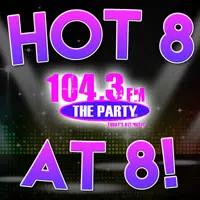 Tuesday, August 28th! Welcome to another round of The Hot 8@8 Countdown with Smoky's House BBQ in Charleston all part of The Night Club with Carman! Last night kicking off the new week we saw no new entries, but for a 5th time "God is a Woman" from Ariana Grande took #1 again! Check out below to see if your votes helped her go a 6th night below….
1. "God is a Woman" – Ariana Grande
2. "Lucid Dreams" – Juice Wrld
3. "Side Effects" – Chainsmokers feat. Emily Warren
4. "No Brainer" – DJ Khaled feat. Justin Bieber, Chance the Rapper & Quavo
5. "Eastside" – Benny Blanco feat. Halsey & Khalid
6. "Natural" – Imagine Dragons
7. "The Way I Am" – Charlie Puth
8. "Boo'd Up" – Ella Mai
Pretty consistent countdown with last night's results. Our top 2 remain the same, Chainsmokers and DJ Khaled just switch places. Please remember weeknights you can help decide the outcome. Please vote from 5-7:30 p.m. CDT by either calling 217-844-HITS, texting 217-218-0288 or by leaving your vote at The Party's Facebook Page!