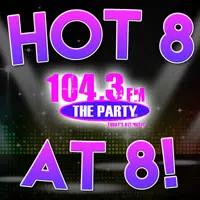 Throwback Thursday, August 30th. Welcome into your second to last show for August 2018 of the Hot 8@8 Countdown with Smoky's House BBQ in Charleston! It's the Night Club with Carman, for pop culture trivia, a song backwards, but first check out and see what your votes helped determine tonight!
1. "God is a Woman" – Ariana Grande
2. "Lucid Dreams" – Juice Wrld
3. "Side Effects" – Chainsmokers feat. Emily Warren
4. "Eastside" – Benny Blanco feat. Halsey & Khalid
5. "Natural" – Imagine Dragons
6. "Boo'd Up" – Ella Mai
7. "No Brainer" – DJ Khaled feat. Justin Bieber, Chance the Rapper, & Quavo
8. "Home With You" – Madison Beer
Pretty consistent show this week, not many shake-ups from last night and once again Ariana Grande takes #1 for an 8th consecutive night! If you want to end the week and month strong…please remember to vote! Weeknights voting is open from 5-7:30 p.m. CDT by either calling 217-844-HITS, texting 217-218-0288, or by leaving your vote at The Party's Facebook Page!