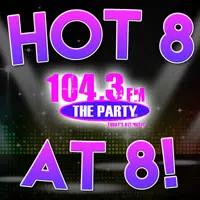 Already Friday?! This week's flown, and so has another week of The Hot 8@8 Countdown with Smoky's House BBQ in Charleston all part of The Night Club with Carman! This week, as we kick-started September we've seen "Lucid Dreams"  from Juice Wrld take #1 the past 3 nights, check out your votes below to see if the song will go a solid week strong tonight….
1. "Boo'd Up" – Ella Mai
2. "Natural" – Imagine Dragons
3. "Lucid Dreams" – Juice Wrld
4. "Broken" – Lovely the Band
5. "Eastside" – Benny Blanco feat. Halsey & Khalid
6. "2002" – Anne Marie
7. "Beautiful" – Bazzi feat. Camila Cabello
8. "Almost Love" -Sabrina Carpenter (Debut!)
Sabrina Carpenter is back on the show tonight and after just 3 nights at the top Juice Wrld falls to #3 and makes room for Ella Mai! "Boo'd up" will close the week at #1! Please remember to vote once more when the countdown resumes on Monday night. Vote Monday through Friday from 5-7:30 p.m. CDT by either calling 217-844-HITS, texting 217-218-0288, or by leaving your vote at The Party's Facebook Page!