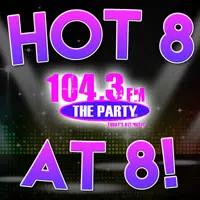 Wednesday, September 12th and time again for your "mid-point" edition of the Hot 8@8 with Smoky's House BBQ in Charleston all part of the Night Club with Carman! So far this week Imagine Dragons have taken #1 with "Natural" see below to see if your votes helped place the group #1 for a third time in a row….
1. "Natural" – Imagine Dragons
2. "Boo'd Up" – Ella Mai
3. "Broken" – Lovely the Band
4. "2002" – Anne Marie
5. "Beautiful" – Bazzi feat. Camila Cabello
6. "Happy Now" – Zedd feat. Elley Duhe
7. "Almost Love" – Sabrina Carpenter
8. "Jackie Chan" – Tiesto & Dzeko feat. Preme & Post Malone (Debut!)
Only one new entry tonight and it's another all-star collaboration with "Jackie Chan!" And for a 3rd time "Natural" takes the #1 spot! Please remember weeknights you can vote for your favorite new tracks from 5-7:30 p.m. CDT by either calling 217-844-HITS, texting 217-218-0288, or by leaving your vote at The Party's Facebook Page!