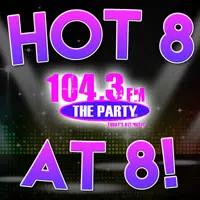 Throwback Thursday has arrived once again. Welcome back to The Night Club with Carman and another round of The Hot 8@8 Countdown with Smoky's House BBQ in Charleston! Given the day of the week we will have an old-school track backwards for Pop Culture Trivia and find out if Imagine Dragons can still dominate the #1 spot for a 4th night in a row!
1. "Natural" – Imagine Dragons
2. "Broken" – Lovely the Band
3. "Beautiful" – Bazzi feat. Camila Cabello
4. "Boo'd Up" – Ella Mai
5. "2002" – Anne Marie
6. "Jackie Chan" – Tiesto & Dzeko feat. Preme & Post Malone
7. "Happy Now" – Zedd feat. Elley Duhe
8. "Almost Love" – Sabrina Carpenter
No new entries tonight, #1 still belongs to Imagine Dragons and Bazzi with Camila Cabello makes a big leap tonight of 2! Tomorrow is the final show for the week, please be sure to vote for your favorite once more tomorrow from 5-7:30 p.m. CDT. Do so by either calling 217-844-HITS, texting 217-218-0288, or by leaving your vote at The Party's Facebook Page!