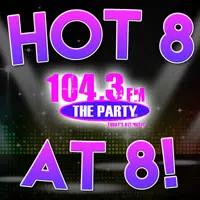 Finally Friday, September 14th and welcome in to the final edition of The Hot 8@8 Countdown with Smoky's House BBQ in Charleston, not only for the week of September 10th through the 14th, but also tonight the final edition for The Night Club with Carman.
This week some big changes have been announced on air, and starting Monday, Carman here will be coming to you from The Party Nation given Kallie has taken another job opportunity. We certainly wish her the best and well wishes on her new adventure, but since I'll be coming to you weekday afternoons beginning Monday, I am happy to announce that Rick from the weekends will be taking over The Night Club and the Hot 8@8 starting Monday.
So check out tonight's results and see if Imagine Dragons can maintain the #1 spot for a 5th night in a row!
1. "Natural" – Imagine Dragons
2. "Broken" – Lovely the Band
3. "Beautiful" – Bazzi feat. Camila Cabello
4. "Jackie Chan" – Tiesto & Dzeko feat. Preme & Post Malone
5. "Happy Now" – Zedd feat. Elley Duhe
6. "Boo'd Up" – Ella Mai
7. "2002" – Anne Marie
8. "Almost Love" – Sabrina Carpenter
A big jump of two tonight for Tiesto, and for a 5th night in a row, a solid week Imagine Dragon's "Natural" has claimed the #1 throne! Monday it's a new week and countdown so please remember to vote weeknights from 5-7:30 p.m. CDT by either calling 217-844-HITS, texting 217-218-0288, or by leaving your vote at The Party's Facebook Page!
Thanks for making the Hot 8@8 Countdown a fun time for me, and I can't wait to talk to you Monday from the Party Nation Show! 🙂