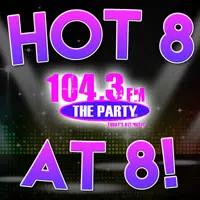 It's my debut!  Rick here,  you may have known me from the weekends, or from my road trip, and I have officially taken control of the Night Club and the Hot 8 @ 8 Countdown!  It's Monday,  time for a new slate of the countdown!  Brought to you by Smoky's House of BBQ in Charleston!  Check out below for tonight's official results!
1. "Broken" – Lovely the Band
2. "Beautiful" – Bazzi feat. Camila Cabello
3. "Natural" – Imagine Dragons
4. "Jackie Chan" – Tiesto & Dzeko feat. Preme & Post Malone
5. "Happy Now" – Zedd feat. Elley Duhe
6. "Almost Love" – Sabrina Carpenter
7. "2002" – Anne Marie
8. "Boo'd Up" – Ella Mai
No one is out from last week yet,  however,  Imagine Dragon's reign has finally come to a halt as Lovely the Band takes the crown!  "Natural" drops down to number three,  "Boo'd Up" falls down to number eight,  and a few others move up!  Check back tomorrow to see where the hot songs land,  and remember you can vote tomorrow for the countdown by texting 217-218-0288 or by calling 217-844-HITS!
Thanks for joining me for my first countdown! I look forward to the many more to come! – Rick