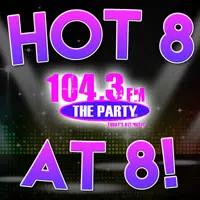 We're back with your Tuesday countdown with Smoky's House of BBQ!  Last night we saw a new contender for the number one spot, knocking Imagine Dragons all the way down to number three.  Lovely The Band stepped up to the number one slot.  Will they retain the throne tonight,  or will there be a new champion? Find out below!
1. "Broken" – Lovely the Band
2. "Beautiful" – Bazzi feat. Camila Cabello
3. "Jackie Chan" – Tiesto & Dzeko feat. Preme & Post Malone
4. "Happy Now" – Zedd feat. Elley Duhe
5. "Natural" – Imagine Dragons
6. "Almost Love" – Sabrina Carpenter
7. "Promises" – Calvin Harris & Sam Smith
8. "2002" – Anne Marie
There you have it!  Ella Mai falls off the countdown,  and taking its place and DEBUTING in the #7 slot:
NEW: "Promises" – Calvin Harris & Sam Smith 
It's already starting off strong! Lovely the Band conquers the competition for the second night in the row,  Anne Marie falls down to number eight,  the mighty falls as Imagine Dragon hits number five,  and Tiesto works his way up to the top 3. Remember you help determine the countdown!  Call tomorow after 4:30 P.M. at 217-844-HITS or text 217-218-0288! We'll see you tomorrow!