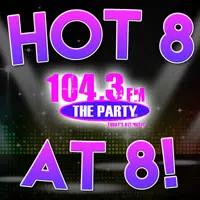 It's hump day, we're finally halfway through the week and there's been a few changes to this week's countdown!  Torwards the beginning Imagine Dragons slowly began to fall off the countdown, working its way back down to number five last night,  and a few new songs were rising to the top.  Lovely the Band has been the champion over the past two nights,  but it's been a tight race with Bazzi and Cabello,  who will be the champion tonight? Results posted below!
1. "Broken" – Lovely the Band
2. "Jackie Chan" – Tiesto & Dzeko feat. Preme & Post Malone
3. "Beautiful" – Bazzi feat. Camila Cabello
4. "Happy Now" – Zedd feat. Elley Duhe
5. "Almost Love" – Sabrina Carpenter
6. "Promises" – Calvin Harris & Sam Smith
7. "Natural" – Imagine Dragons
8. "Happier" – Marshallo feat. Bastille
Another new debut on the countdown tonight:
NEW: "Happier" – Marshallo feat. Bastille
Marshallo hops on the countdown thanks to your votes at number eight!  Imagine Dragons is slowly dropping off the countdown,  Lovely the Band reigns supreme,  and Tiesto overcomes Bazzi and Camila Cabello for the number two slot.  Will Tiesto be able to overcome Lovely the Band for a chance at the crown? You decide!  Remember you can always vote by: Calling 217-844-HITS, Texting 217-218-0288,  Tweeting, and messaging us on Facebook!  Check back here for tomorrow's countdown, as well as your chance to win free BBQ!  Brought to you by Smoky's House of BBQ!