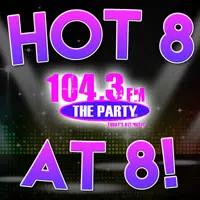 Happy Thursday! We are back with another edition of your countdown! Last night we saw the second newest addition to the week,  Marshallo.  Lovely the Band closed the night out with win to become a three day champion,  and Tiesto took to number two over Bazzi and Camila Cabello.  Will Broken stay the top tonight? Or will Jackie Chan reach the top?  Results below!
1. "Broken" – Lovely the Band
2. "Jackie Chan" – Tiesto & Dzeko feat. Preme & Post Malone
3. "Beautiful" – Bazzi feat. Camila Cabello
4. "Happy Now" – Zedd feat. Elley Duhe
5. "Almost Love" – Sabrina Carpenter
6. "Promises" – Calvin Harris & Sam Smith
7. "Natural" – Imagine Dragons
8. "Happier" – Marshallo feat. Bastille
Not too many changes on the countdown tonight! Lovely the Band remains the champion for the entire week,  with only Friday left!   Marshallo moves up to number seven, and Imagine Dragons dip down to number eight.  Remember you can help determine tomorrow's outcome,  check back tomorrow for Friday's End Week Edition!  Call to vote at 217-844-HITS or text 217-218-0288!