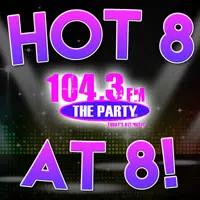 Happy Friday!  It's time for your last edition of the Hot 8@8 Countdown for the week!  Finally Friday,  and your votes have been tallied! It was a tight race!  Will Lovely the Band remain on top, or will it fall? How will the countdown piece together?  Find out below!
1. "Jackie Chan" – Tiesto & Dzeko feat. Preme & Post Malone
2. "Broken" – Lovely the Band
3. "Beautiful" – Bazzi feat. Camila Cabello
4. "Almost Love" – Sabrina Carpenter
5. "Happy Now" – Zedd feat. Elley Duhe
6. "Promises" – Calvin Harris & Sam Smith
7. "Happier" – Marshallo feat. Bastille
8. "Africa" – Weezer
Lovely the Band falls through and lands at number two, and a new champion here on the countdown! Tiesto takes the top spot,  Sabrina Carpenter battles her way up to number four, and a NEW DEBUT!
NEW: "Africa" – Weezer
Tune in next week! Vote at 217-844-HITS, Tweet, or Text us! 217-218-0288.  We'll see you Monday!