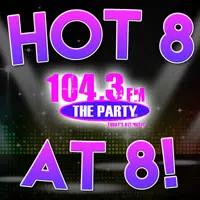 Welcome back to your weekly countdown with Smoky's House of BBQ! It's Monday and we're back at it, we've taken your votes, tallied the poles and getting ready for the show!  Last week Lovely The Band was the champion until Friday when it was dethroned by Tiesto.  Will they battle for the top spot, or will they fall? Find out now! Results for tonight's countdown below:
1. "Jackie Chan" – Tiesto & Dzeko feat. Preme & Post Malone
2. "Beautiful" – Bazzi feat. Camila Cabello
3. "Broken" – Lovely the Band
4. "Almost Love" – Sabrina Carpenter
5. "Happy Now" – Zedd feat. Elley Duhe
6. "Happier" – Marshallo feat. Bastille
7. "Promises" – Calvin Harris & Sam Smith
8. "Africa" – Weezer
There you have it! Your Monday edition of the countdown.  Tiesto keeps the top spot for the two night reign,  Bazzi fights the way back up to number two,  and Marshallo passed Cavlin Harris and Sam Smith to take number six.  You can vote for tomorrow's countdown by texting us at 217-218-0288, or giving us a call tomorrow evening at 217-844-HITS!