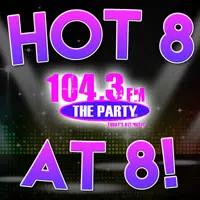 Happy Tuesday! Back with another edition of your countdown, brought to you by Smoky's House of BBQ!   Yesterday's countdown Tiesto held the top spot for another night,  keeping it at a two run streak.  Your votes have been tallied and tonight was quite a shake up!  Check below for tonight's results!
1. "Beautiful" – Bazzi feat. Camila Cabello
2. "Jackie Chan" – Tiesto & Dzeko feat. Preme & Post Malone
3. "Almost Love" – Sabrina Carpenter
4. "Broken" – Lovely the Band
5. "Happier" – Marshallo feat. Bastille
6. "Promises" – Calvin Harris & Sam Smith
7. "Africa" – Weezer
8. "Happy Now" – Zedd feat. Elley Duhe
A new champion takes the crown on tonight's Countdown!  Bazzi and Camila have had it for a long time coming,  bouncing between third and second for over a week, and now they are finally number one!  How long will they last? Or will they be just as volatile as before? Only you cam decide! Vote for the countdown by texting 217-218-0288 or calling 217-844-HITS at 4:30-7:30 P.M. CST every weekday!