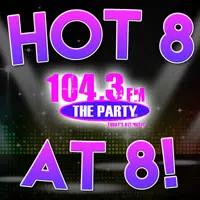 Happy Hump Day! We bring it back with another edition of your countdown, brought to you by Smoky's House of BBQ!  Last night Bazzi and Camila Cabello were the champions of the countdown.  Can they keep the top spot, or will they flake off? Find out below!
1. "Beautiful" – Bazzi feat. Camila Cabello
2. "Almost Love" – Sabrina Carpenter
3. "Jackie Chan" – Tiesto & Dzeko feat. Preme & Post Malone
4. "Happier" – Marshallo feat. Bastille
5. "Broken" – Lovely the Band
6. "Promises" – Calvin Harris & Sam Smith
7. "Africa" – Weezer
8. "High Hopes" – Panic! at the disco
Bazzi and Camila keep the top spot,  Sabrina Carpenter comes up to the number TWO slot tonight.  Tiesto falling down to number three, and a new debut here on the countdown!
NEW: "High Hopes" – Panic! at the Disco
It's been a long time coming for the band! Last time they exploded with popularity was with "Victorious," back in 2015.  Now they are back on the charts, and because of you, back on the countdown! Remember you can vote for the countdown anytime by texting 217-218-0288!