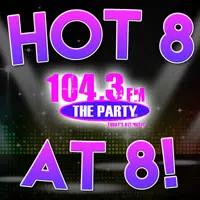 It's time for a rewind throwback Thursday!  Our pop culture trivia question tonight had a song played from Avril Lavigne played backwards, where we asked contestants to name the title.  The song was "Sk8r Boi."
The Countdown was super contested tonight,  several came close to inching ahead,  some DID.  Check out the results below, sponsored by Smoky's House of BBQ!
1. "Beautiful" – Bazzi feat. Camila Cabello
2. "Almost Love" – Sabrina Carpenter
3. "Happier" – Marshallo feat. Bastille
4. "Jackie Chan" – Tiesto & Dzeko feat. Preme & Post Malone
5. "Promises" – Calvin Harris & Sam Smith
6. "Africa" – Weezer
7. "Broken" – Lovely the Band
8. "High Hopes" – Panic! at the Disco
Lovely the Band stepped down a couple slots,  "Happier" moved on past "Jackie Chan" to move into the top three,  and Bazzi and Camila Cabello still remain the hottest on the countdown.  Sabrina Carpenter is getting close! Remember you can vote anytime at 217-218-0288 by shooting a text there, or by calling 217-844-HITS Monday-Friday 4:30-7:30 P.M. ! We'll see you tomorrow!