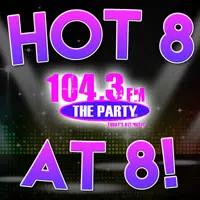 OCTOBER IS FINALLY HERE!  Back with your Monday Edition of the countdown,  and my most favorite month of the year! Tonight was a wild ride for a countdown too,  a new debut on the countdown,  several change ups, drop offs, and even a new song in the number one spot! Check out the details below!
1. "Happier" – Marshmellow feat. Bastille
2. "Almost Love" – Sabrina Carpenter
3. "Promises" – Calvin Harris & Sam Smith
4. "Beautiful" – Bazzi feat. Camila Cabello
5. "Africa" – Weezer
6. "High Hopes" – Panic! at the Disco
7. "Goodbye" – Jason Derulo & David Guetta feat. Nicki Minaj and Willy William
8. "Jackie Chan" – Tiesto & Dzeko feat. Preme & Post Malone
Lots of changes all over the countdown!  Tiesto dropped down to number eight,  Weezer and Panic! move up a spot,  and a new debut!
NEW: "Goodbye" – Jason Derulo & David Guetta feat. Nicki Minaj and Willy William
In the top spots,  Bazzi and Camila drop off the top three,  Calvin Harris and Sam Smith take the number three,  Sabrina Carpenter drops down a spot, and Marshmellow takes the crown for the week!  Remember you can vote for the Hot 8@8 countdown anytime on twitter, or by texting 217-218-0288! We'll see you for another countdown tomorrow! – Rick