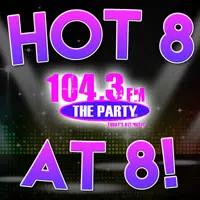 Happy Tuesday!  Back with another edition of your Hot 8@8 Countdown brought to you by Smoky's House of BBQ!  We had a new debut yesterday from Jason Derulo,  and a new champion with Marshmellow! Tonight was another really close night,  find out the results below!
1. "Happier" – Marshmellow feat. Bastille
2. "Almost Love" – Sabrina Carpenter
3. "Promises" – Calvin Harris & Sam Smith
4. "High Hopes" – Panic! at the Disco
5. "Africa" – Weezer
6. "Beautiful" – Bazzi feat. Camila Cabello
7. "Goodbye" – Jason Derulo & David Guetta feat. Nicki Minaj and Willy William
8. "Taste" – Tyga
Another countdown for the books! Marshmellow kept the crown, Panic! passed Weezer and Bazzi, and another new debut for the countdown!
NEW – "Taste" – Tyga
Two new songs and it's only Tuesday! Remember you can vote for the countdown anytime by shooting us a tweet, or text at 217-218-0288.  You can also call weekdays Monday through Friday from 4:30-7:30 p.m. on our party hotline!