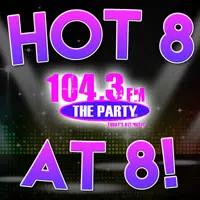 It's Hump Day! We've reached the midpoint of our week and our third edition of the countdown for the first week of October!  On Monday we had a new champion,  and now Marshmellow is trying to start a streak!  Two new debuts have also found their way onto the countdown, lets see how they all rank up below!
1. "Happier" – Marshmellow feat. Bastille
2. "Promises" – Calvin Harris & Sam Smith
3. "Almost Love" – Sabrina Carpenter
4. "High Hopes" – Panic! at the Disco
5. "Africa" – Weezer
6. "Goodbye" – Jason Derulo & David Guetta feat. Nicki Minaj and Willy William
7. "Beautiful" – Bazzi feat. Camila Cabello
8. "Taste" – Tyga
Not too many changes tonight! Sabrina Carpenter dropped down to the number three, teetering out of the top tier,  Jason Derulo moves up a spot,  check back tomorrow for another edition of the countdown.  Remember you can vote anytime by texting 217-218-0288!