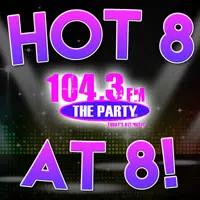 It's your throwback Thursday!  As tradition,  we had a reversal retro-rewind as part of our pop culture trivia! Miley Cyrus's album Bangerz came out 5 years ago, which officially makes "Wrecking Ball" a retro rewind!  Time flies!
Tonight's countdown was HEATED!  Lots of ups and downs, and a contestant that shot up to the top three from a couple spots down! Check out tonight's results below!
1. "Happier" – Marshmellow feat. Bastille
2. "Promises" – Calvin Harris & Sam Smith
3. "Africa" – Weezer
4. "High Hopes" – Panic! at the Disco
5. "Almost Love" – Sabrina Carpenter
6. "Goodbye" – Jason Derulo & David Guetta feat. Nicki Minaj and Willy William
7. "Taste" – Tyga
8. "Beautiful" – Bazzi feat. Camila Cabello
There you have it!  Sabrina Carpenter dropped down two spots, but Weezer came in strong, passing both her and Panic! to enter the top 3!  Tyga also passed Bazzi and Camila Cabello.  Check back here for your Friday countdown! You can vote now at 217-218-0288!