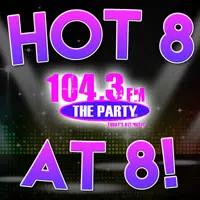 It's your Friday edition of the countdown! Marshmellow has been dominating the countdown in the first five day streak since Rick has taken over!  Weezer inched its way up to number three this week as well,  Calvin Harris and Sam Smith were also in the mix.  Two debuts earlier in the week, let's see how they all ranked up this Friday!
1. "Happier" – Marshmellow feat. Bastille
2. "Promises" – Calvin Harris & Sam Smith
3. "Africa" – Weezer
4. "High Hopes" – Panic! at the Disco
5. "Goodbye" – Jason Derulo & David Guetta feat. Nicki Minaj and Willy William
6. "Almost Love" – Sabrina Carpenter
7. "Taste" – Tyga
8. "Electricity" – Silk City & Dua Lipa feat. Diplo, Mark Ronson
Another new Debut to kick off your weekend!
NEW: "Electricity" – Silk City & Dua Lipa feat. Diplo, Mark Ronson
For the rest of the countdown, it remained largely the same.  Marshmellow your champion for the week!  Jason Derulo passing Sabrina Carpenter for the number five.  Check back Monday for a new edition of the countdown! Have a great weekend! – Rick