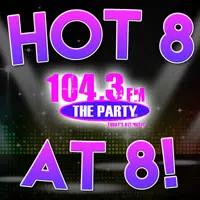 We're back with another fresh week of Countdowns.  Last week, we had three new debuts from: Tyga, Silk City, and Jason Derulo.  We'll have to see how they stack up against the rest of the competition!  Marshmellow held the crown all week at number one, will his streak continue, or will someone break it tonight? Results posted below:
1. "Happier" – Marshmellow feat. Bastille
2. "Africa" – Weezer
3. "Promises" – Calvin Harris & Sam Smith
4. "High Hopes" – Panic! at the Disco
5. "Taste" – Tyga
6. "Goodbye" – Jason Derulo & David Guetta feat. Nicki Minaj and Willy William
7. "Electricity" – Silk City & Dua Lipa feat. Diplo, Mark Ronson
8. "Almost Love" – Sabrina Carpenter
Marshmellow does it again! Taking the top spot to kick off the week strong.  Weezer moves up to number 2, Tyga passed Jason Derulo,  and Sabrina Carpenter drops down to number eight.  Remember you can vote for the countdown anytime by texting 217-218-0288!