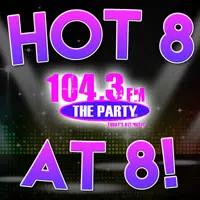 Back with your Tuesday countdown!  Yesterday we saw Weezer climb up to the number two,  but Marshmellow still kept the crown as champion to start the week off.  How did your favorite artists rank on the countdown tonight?  Find out below:
1. "Happier" – Marshmellow feat. Bastille
2. "Promises" – Calvin Harris & Sam Smith
3. "High Hopes" – Panic! at the Disco
4. "Africa" – Weezer
5. "Taste" – Tyga
6. "Electricity" – Silk City & Dua Lipa feat. Diplo, Mark Ronson
7. "Goodbye" – Jason Derulo & David Guetta feat. Nicki Minaj and Willy William
8. "Breathin'" – Ariana Grande
Tonight's Countdown is quite a wild ride,  kicking it off with a new debut:
NEW: "Breathin'" – Ariana Grande
Elsewhere on the countdown,  Silk City passed up Jason Derulo,  Weezer got knocked down two spots with Calvin Harris and Panic! making their way to clear the top three.  Marshmellow keeps the crown for another day!  Remember you can vote for the Hot 8@8 Countdown anytime by texting 217-218-0288!