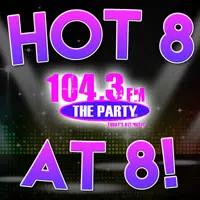 Back with your hump day edition of the countdown! Marshmellow has continued his reign as the Champion going strong into his second week,  but your vote help changes that!  Will he remain the king,  or will he fall? Here's tonight's countdown:
1. "Happier" – Marshmellow feat. Bastille
2. "High Hopes" – Panic! at the Disco
3. "Promises" – Calvin Harris & Sam Smith
4. "Taste" – Tyga
5. "Africa" – Weezer
6. "Electricity" – Silk City & Dua Lipa feat. Diplo, Mark Ronson
7. "Goodbye" – Jason Derulo & David Guetta feat. Nicki Minaj and Willy William
8. "Breathin'" – Ariana Grande
There's your midweek countdown!  Not much has changed from yesterday.  Tyga passed Weezer to take number four, and Panic! took Calvis and Sam over.  Remember you can help determine the outcome of the countdown by tweeting us on our Party Twitter, or shooting a text to 217-218-0288!