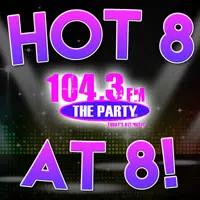 It's your Throwback Thrusday! For our Rewind Trivia,  Fatboy Slim dropped an album twenty years ago, You've Come a Long Way, Baby.  We flipped a track from that album for our rewind trivia!
On the countdown,  we saw a few changes,  check them out here:
1. "Happier" – Marshmellow feat. Bastille
2. "Promises" – Calvin Harris & Sam Smith
3. "High Hopes" – Panic! at the Disco
4. "Taste" – Tyga
5. "Electricity" – Silk City & Dua Lipa feat. Diplo, Mark Ronson
6. "Africa" – Weezer
7. "Breathin'" – Ariana Grande
8. "Goodbye" – Jason Derulo & David Guetta feat. Nicki Minaj and Willy William
A few swaps back and forth!  Silk City passing up Weezer and Ariana Grande passing up Jason Derulo.  In our top bracket, Panic! was passed by Calvin Harris and Sam Smith,  Marshmellow remains the champion for his 9th straight Countdown!  Remember you can vote for the countdown anytime by tweeting us!  Brought to you by Smoky's House of BBQ.