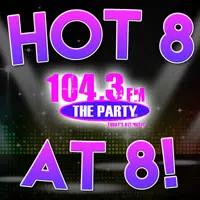 It's Friday!  It's time for your last edition of the countdown for the week.  Marshmellow has almost held the title of number one for two weeks straight! Will he pull off a two full weeks? Results below, brought to you by Smoky's House of BBQ!
1. "Promises" – Calvin Harris & Sam Smith
2. "Happier" – Marshmellow feat. Bastille
3. "High Hopes" – Panic! at the Disco
4. "Electricity" – Silk City & Dua Lipa feat. Diplo, Mark Ronson
5. "Taste" – Tyga
6. "Africa" – Weezer
7. "Breathin'" – Ariana Grande
8. "Goodbye" – Jason Derulo & David Guetta feat. Nicki Minaj and Willy William
Few changes tonight! The first one being a new champion!  Calvin Harris & Sam Smith finally pull it off, coming in strong and wrapping up the week as the king of the countdown.  Silk City also passing up Tyga.  Check back next week! Make some votes over the weekend with your requests, and we'll see you Monday!