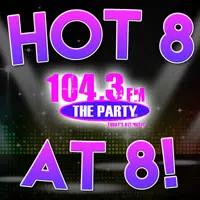 Happy Monday! We are back with another fresh edition and lots of votes to kick off your Monday countdown, brought to you by Smoky's House of BBQ!  Here's the results from the weekend tally:
1. "High Hopes" – Panic! at the Disco
2. "Promises" – Calvin Harris & Sam Smith
3. "Happier" – Marshmellow feat. Bastille
4. "Taste" – Tyga
5. "Breathin'" – Ariana Grande
6. "Electricity" – Silk City & Dua Lipa feat. Diplo, Mark Ronson
7. "Goodbye" – Jason Derulo & David Guetta feat. Nicki Minaj and Willy William
8. "Africa" – Weezer
Wild round of trades this week on the countdown!  Panic! at the Disco starts the week off strong, snatching the crown from Calvin Harris & Sam Smith.  Tyga bounces back up to number four,  Ariana Grande has been BLOWING UP everywhere,  her votes move her up a couple slots.  Remember you can vote for the countdown anytime by shooting us a tweet, or by texting 217-218-0288!