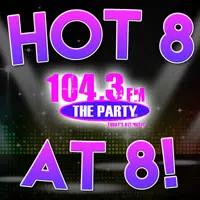 It's your Hump Day Edition of the Countdown! (It's Wednesday My Dudes!) Panic! at the Disco has been your champion since the start of the week, and they held a strong lead yesterday.  Will they keep that lead or drop off? Find out below!
1. "High Hopes" – Panic! at the Disco
2. "Promises" – Calvin Harris & Sam Smith
3. "Breathin'" – Ariana Grande
4. "Taste" – Tyga
5. "Electricity" – Silk City & Dua Lipa feat. Diplo, Mark Ronson
6. "Happier" – Marshmellow feat. Bastille
7. "Goodbye" – Jason Derulo & David Guetta feat. Nicki Minaj and Willy William
8. "Thunderclouds" – LSD feat. Sia, Diplo, & Labrinth
Not too many changes from yesterday! Ariana Grande kicks Tyga out of the top three, and Silk City and Dua Lipa pass up Marshmellow.  Remember you can vote for the countdown any time by shooting us a text at 217-218-0288, or by voting on twitter!