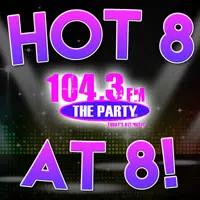 It's your retro rewind Thursday!  We took the countdown back to 2008 for Pop Culture Trivia and did a rewind of the Number 1 on the billboard chart on this day in History, remember a tune to the beat of "Desperado" by Rihanna? It's been TEN years!  Now here is a look at your countdown:
1. "High Hopes" – Panic! at the Disco
2. "Breathin'" – Ariana Grande
3. "Promises" – Calvin Harris & Sam Smith
4. "Taste" – Tyga
5. "Electricity" – Silk City & Dua Lipa feat. Diplo, Mark Ronson
7. "Goodbye" – Jason Derulo & David Guetta feat. Nicki Minaj and Willy William
8. "Thunderclouds" – LSD feat. Sia, Diplo, & Labrinth
8. "Happier" – Marshmellow feat. Bastille
Ariana Grande pushes up to the number two slot! Meanwhile Marshmellow and Bastille fall to number eight, and LSD begins the climb up the charts! Check back tomorrow for your final edition of the coutndown for the week, and remember to vote on Twitter and Facebook!