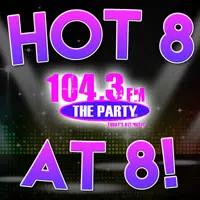 Happy Monday! We are back with a fresh set of countdowns this week, all determined by you, the listener!  You can vote anytime between 4:30-7:30 CST during the Party Nation Show and The Night Club!  After that,  all the votes are tallied and configured and qued up to create your Hot 8@8 Countdown, brought to you by Smoky's House of BBQ!  You can also vote: by tweeting us,  texting 217-218-0288,  or shooting us a facebook message!  Here are your Monday results:
1. "Breathin'" – Ariana Grande
2. "High Hopes" – Panic! at the Disco
3. "Taste" – Tyga
4. "Electricity" – Silk City & Dua Lipa feat. Diplo, Mark Ronson
5. "Promises" – Calvin Harris & Sam Smith
6. "Lost in Japan" – Shawn Mendes
7. "Thunderclouds" – LSD feat. Sia, Diplo, & Labrinth
8. "Without Me" – Halsey
Busy Monday for most artists!  We have a new champion to kick off your week, Ariana Grande! She climbed pretty quickly, and stripped the crown from Panic! who held the top spot for a week straight.  We also had a new debut!
NEW: "Without Me" – Halsey
Debuting at number eight was Halsey.  Shawn Mendes also shot up two spots,  and Calvin Harris has started dropping.  Check back here to see how your favorites are doing on the countdown, brought to you by Smoky's House of BBQ!