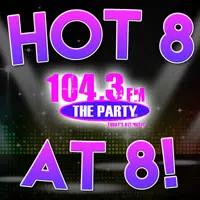 Happy Tuesday! Back with another edition of your countdown.  Yesterday,  Ariana Grande took the crown to kick off the week after breaking Panic!'s streak of a week straight.  Will Grande be able to hold the lead? Vote and find out this week! Results below, brought to you by Smoky's House of BBQ:
1. "Breathin'" – Ariana Grande
2. "High Hopes" – Panic! at the Disco
3. "Taste" – Tyga
4. "Electricity" – Silk City & Dua Lipa feat. Diplo, Mark Ronson
5. "Lost in Japan" – Shawn Mendes
6. "Promises" – Calvin Harris & Sam Smith
7. "Thunderclouds" – LSD feat. Sia, Diplo, & Labrinth
8. "Without Me" – Halsey
Not too many changes to tonight's countdown!  Ariana Grande holds the crown again,  Shawn Mendes moves another spot up on the countdown.  Remember to vote every weekday between 4:30-7:30 P.M. at 217-844-HITS or text 217-218-0288 and vote anytime!