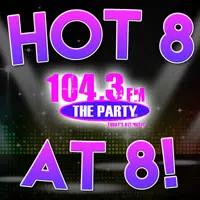 Happy Hump Day! We're back with your mid-week edition of the countdown, brought to you by Smoky's House of BBQ!  Ariana Grande has held the top spot Monday and Tuesday after snapping Panic!'s week straight streak.  Will she start a streak of her own tonight,  or will she get passed up? Find out below!
1. "Breathin'" – Ariana Grande (STREAK: 3)
2. "Taste" – Tyga
3. "High Hopes" – Panic! at the Disco
4. "Lost in Japan" – Shawn Mendes
5. "Electricity" – Silk City & Dua Lipa feat. Diplo, Mark Ronson
6. "Without Me" – Halsey
7. "Thunderclouds" – LSD feat. Sia, Diplo, & Labrinth
8. "Promises" – Calvin Harris & Sam Smith
Grande has started a streak! Currently at three days! Calvin Harris and Sam Smith fall down to number eight while Halsey soars up to number six after being at eight for a few days.  Tyga reaches number two, and Panic! falls to three after a week straight of being number one.  Remember you can vote anytime for the countdown by texting 217-218-0288!