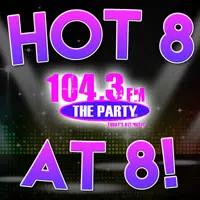 Happy Throwback Thursday! Our Pop Culture Rewind brought us back to 2010 in celebration of Katy Perry's Birthday with Teenage Dreams.  As for the Countdown,  Ariana Grande started a streak yesterday,  and a new debut tonight! Check to see if she continues the streak below, brought to you by Smoky's House of BBQ.
1. "Breathin'" – Ariana Grande (STREAK: 4)
2. "Taste" – Tyga
3. "Lost in Japan" – Shawn Mendes
4. "Without Me" – Halsey
5. "High Hopes" – Panic! at the Disco
6. "Electricity" – Silk City & Dua Lipa feat. Diplo, Mark Ronson
7. "Thunderclouds" – LSD feat. Sia, Diplo, & Labrinth
8. "Song About You" – Mike Posner
That's your wrap for Thursday's Countdown! New Debut tonight!
DEBUT: "Song About You" – Mike Posner
Shawn Mendes also moved up to the top three, and Halsey is shortly behind.  Both these songs have been blowing up the charts,  but Grande keeps the streak going, landing her 4th night in a row! Remember to vote for the countdown anytime by texting 217-218-0288!