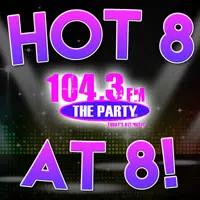 Happy Friday!  Your last edition of the countdown for the week is here!  Grande has held the top spot all week long, will she keep the record going and hold it for a week striaght? Find out below, brought to you by Smoky's House of BBQ!
1. "Breathin'" – Ariana Grande (STREAK: 5)
2. "Lost in Japan" – Shawn Mendes
3. "Taste" – Tyga
4. "Without Me" – Halsey
5. "Electricity" – Silk City & Dua Lipa feat. Diplo, Mark Ronson
6. "High Hopes" – Panic! at the Disco
7. "Thunderclouds" – LSD feat. Sia, Diplo, & Labrinth
8. "Song About You" – Mike Posner
There's your Friday Countdown!  You helped shape it, and kept Grande at number one all week long!  Remember to vote over the weekend for Monday's Countdown by shooting us a tweet, texting us at 217-218-0288, or messaging us on facebook! Have a safe and happy weekend, we'll be back with your next edition on Monday!