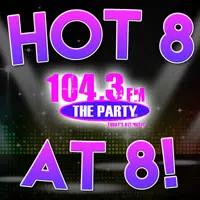 Tomorrow is Halloween!  Get excited! Tomorrow will be a heavily themed Night Club with a special pop culture trivia!  Today's Countdown is in!  Grande has had a hot streak and she looks to keep the heat turned up.
1. "Breathin'" – Ariana Grande (STREAK: 7)
2. "Lost in Japan" – Shawn Mendes
3. "Without Me" – Halsey
4. "Electricity" – Silk City & Dua Lipa feat. Diplo, Mark Ronson
5. "Taste" – Tyga
6. "Thunderclouds" – LSD feat. Sia, Diplo, & Labrinth
7. "Song About You" – Mike Posner
8. "High Hopes" – Panic! at the Disco
Grande carries the streak forward for her 7th night in a row!  Tyga drops down to number five,  Mike Posner passes up Panic! to move up to number seven,  and Mendes and Halsey hold a steady spot in the top three! Remember to vote for Halloween's Countdown anytime by texting 217-218-0288! Check back tomorrow!