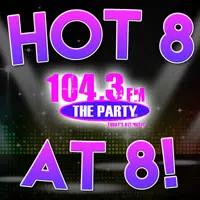 Happy Halloween!  Your spooky edition of the nightclub is here!  The countdown features a new debut that features Thriller singer Michael Jackson! Check below for results, brought to you by Smoky's House of BBQ:
1. "Breathin'" – Ariana Grande (STREAK: 7)
2. "Without Me" – Halsey
3. "Lost in Japan" – Shawn Mendes
4. "Electricity" – Silk City & Dua Lipa feat. Diplo, Mark Ronson
5. "Thunderclouds" – LSD feat. Sia, Diplo, & Labrinth
6. "Taste" – Tyga
7. "Song About You" – Mike Posner
8. "It Don't Matter to Me" – Drake feat. Michael Jackson
Halloween and a NEW debut feating Michael Jackson!
NEW: "It Don't Matter to Me" – Drake feat. Michael Jackson
That's your Halloween edition of the countdown! New debut,  another night of Grande as champion!  Check back here tomorrow and see if Grande keeps the streak going, and how Drake and Jackson fair in the countdown!  Remember to vote anytime by tweeting us @1043theparty