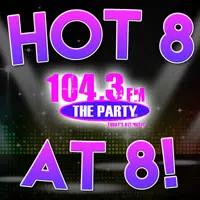 Happy Friday! All of this week Grande has been topping the countdown, and she moves to set herself up for a two week straight title.  Your votes help determine the countdown each night,  you can always tweet us for a vote, or text us at 217-218-0288.  Here is tonight's countdown:
1. "Breathin'" – Ariana Grande (STREAK: 9)
2. "Without Me" – Halsey
3. "Electricity" – Silk City & Dua Lipa feat. Diplo, Mark Ronson
4. "Lost in Japan" – Shawn Mendes
5. "Thunderclouds" – LSD feat. Sia, Diplo, & Labrinth
6. "Song About You" – Mike Posner
7. "It Don't Matter to Me" – Drake feat. Michael Jackson
8. "Consequences" – Camila Cabello
A new debut for Friday's countdown!
NEW: "Consequences" – Camila Cabello 
There's your Friday edition of the countdown.  Grande has done it! Two week streak and your champion for the weekend.  That brings her streak to 10 nights in a row!  Check back next week, and see if she can go for three! Brought to you by Smoky's House of BBQ.