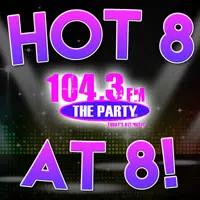 Back with your regular scheduled Night Club and Hot 8@8 Countdown! Yesterday we had your Election Coverage, if you'd like to see the completed results, check them out here on the front page of our website!  Yesterday we had a new debut from Chainsmokers and Kelsea Ballerini,  and Grande once again held the top spot. Here is tonight's countdown, brought to you by Smoky's House of BBQ!
1. "Breathin'" – Ariana Grande (STREAK: 13)
2. "Without Me" – Halsey
3. "Electricity" – Silk City & Dua Lipa feat. Diplo, Mark Ronson
4. "Lost in Japan" – Shawn Mendes
5. "Thunderclouds" – LSD feat. Sia, Diplo, & Labrinth
6. "Consequences" – Camila Cabello
7. "It Don't Matter to Me" – Drake feat. Michael Jackson
8. "This Feeling" – The Chainsmokers feat. Kelsea Ballerini
That's tonight's countdown! Grande is on a hotstreak aiming for a three week straight run!  Should also be noted she dropped a HOT new single this past week two.  With two songs in the top ten on the billboard top 100, she's got a bright future ahead of her, and she was recently named 'Billboard' 2018 Woman of the Year ! Remember to vote for tomorrow's countdown, by texting 217-218-0288!