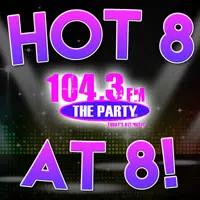 It's your Throwback Thursday!  We play a special version of your Pop Culture Trivia called 'Pop Culture Rewind!'  Today we took Lorde's hit 'Royals,'  she was top of the chart FIVE years ago, officially classifying this one as a RETRO REWIND!  Are we that old already?  Anyway, here's your countdown, brought to you by Smoky's House of BBQ!
1. "Breathin'" – Ariana Grande (STREAK: 13)
2. "Without Me" – Halsey
3. "Electricity" – Silk City & Dua Lipa feat. Diplo, Mark Ronson
4. "Consequences" – Camila Cabello
5. "Thunderclouds" – LSD feat. Sia, Diplo, & Labrinth
6. "Lost in Japan" – Shawn Mendes
7. "It Don't Matter to Me" – Drake feat. Michael Jackson
8. "This Feeling" – The Chainsmokers feat. Kelsea Ballerini
Big change tonight in the middle of the chart!  Camila Cabello pulled off an upset and zoomed past LSD and Shawn Mendes.  LSD also took the opportunity and the vote count to pass 'Lost in Japan!'  Remember you can vote for the countdown anytime, by texting us at 217-218-0288!