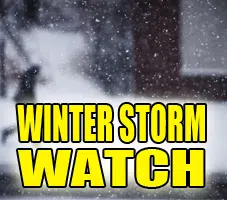 First Significant Snow of the Season to Bring Heavy Snow Near and South of Interstate 70…
ILZ066>068-071>073-141000-/O.NEW.KILX.WS.A.0003.181115T0000Z-181116T0000Z/
Effingham-Jasper-Crawford-Clay-Richland-Lawrence-
Including the cities of Effingham, Newton, Robinson, Flora, Olney, and Lawrenceville
245 PM CST Tue Nov 13 2018
…WINTER STORM WATCH IN EFFECT FROM WEDNESDAY EVENING THROUGH THURSDAY AFTERNOON…
* WHAT…Heavy snow possible. Total snow accumulations of 4 to 7 inches possible.
* WHERE…Portions of southeast Illinois, mainly near and south of Interstate 70.
* WHEN…From Wednesday evening through Thursday afternoon.
* ADDITIONAL DETAILS…Plan on slippery road conditions. The hazardous conditions could impact the morning or evening  commute.
PRECAUTIONARY/PREPAREDNESS ACTIONS…
A Winter Storm Watch means there is potential for significant snow, sleet or ice accumulations that may impact travel. Those in
the Watch area should begin preparing in case the storm does materialize. If you have travel planned, you may want to adjust
your travel time to avoid the storm. Make certain your vehicle is winterized and make preparations at home by stocking emergency
supplies, such as food, medicine, and extra heating fuel. Continue to monitor the latest forecasts.
&&
$$