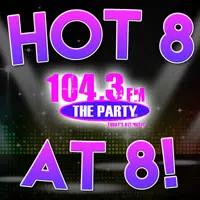 It's your Thursday! Back with your Retro Rewind Pop Culture Trivia! This week, B.O.B.'s birthday was today, so we put on the track he spun with Hayley Williams.  Could say that one was a soaring success!  Here on the Countdown, Halsey continues her streak and seeks a full week championship,  but we'll have to see! Results below, brought to you by Smoky's House of BBQ:
1. "Without Me" – Halsey (STREAK: 4)
2. "Consequences" – Camila Cabello
3. "Thunderclouds" – LSD feat. Sia, Diplo, & Labrinth
4. "Lost in Japan" – Shawn Mendes
5. "It Don't Matter to Me" = Drake feat. Michael Jackson
6. "Sunflower" – Post Malone feat. Sway Lee
7. "Breathin'" – Ariana Grande
8. "This Feeling" – The Chainsmokers feat. Kelsea Ballerini
Grande is beginning to fall hard,  Halsey keeps the spot strong at number one as she continues to four nights in a row.  Drake also shot up suddenly,  all the way up from eight to five!  Check back tomorrow for your final countdown of the week, and don't forget to vote!