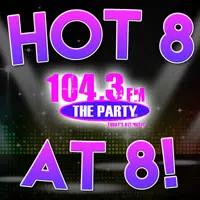 We're back with your Tuesday!  Another edition of your countdown,  and a chance for you to win a free Sandwich to smoky's House of BBQ!   Last week Halsey held the top slot all week long, and she's pushing for another week of the same!
1. "Without Me" – Halsey (STREAK: 7)
2. "Consequences" – Camila Cabello
3. "Sunflower" – Post Malone feat. Sway Lee
4. "Thunderclouds" – LSD feat. Sia, Diplo, & Labrinth
5. "This Feeling" – The Chainsmokers feat. Kelsea Ballerini
6. "Shallow'" – Lady Gaga & Bradley Cooper
7. "Better" – Khalid
8. "It Don't Matter to Me" = Drake feat. Michael Jackson
There's your Tuesday Countdown! Not too many changes tonight, Khalid got a step up on Drake and Michael Jackson, moving into #7, and Halsey is fire, her streak moving to seven nights in a row!  Remember to vote anytime for the countdown at 217-218-0288!  You can also vote by tweeting us!