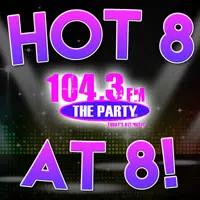 We're back with your Tuesday Countdown!  Camila seeks to start a Hot Streak tonight with her third night at the top of the countdown.  Post Malone and Sway Lee seek to stop her! Who will win on tonight's countdown? Results below, brought to you by Smoky's House of BBQ:
1. "Consequences" – Camila Cabello (STREAK: 3)
2. "Sunflower" – Post Malone feat. Sway Lee
3. "Better" – Khalid
4. "Without Me" – Halsey
5. "This Feeling" – The Chainsmokers feat. Kelsea Ballerini
6. "Thank U, Next" = Ariana Grande
7. "Shallow'" – Lady Gaga & Bradley Cooper
8. "Taki Taki" = DJ Snake feat. Salena Gomez and Cardi B.
Camila Cabello seals away the three day streak, keeping the lead from Post Malone!  Grande is fast moving up the charts too, in her second night she takes to number 6!  Remember you can start voting for tomorrow's countdown by texting 217-218-0288!