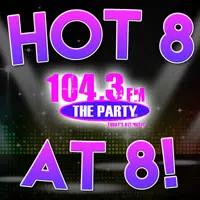 Throwback Thursday!  Sprinkle in an older tune, Chris Brown's self entitled album released back in 2003.  Tonight we took a track from that album and put it on reverse for our Pop Culture Rewind!
Tonight's countdown has a new debut!  Check it out below, brought to you by Smoky's House of BBQ!
1. "Sunflower" – Post Malone feat. Sway Lee
2. "Consequences" – Camila Cabello
3. "Shallow'" – Lady Gaga & Bradley Cooper
4. "Better" – Khalid
5. "Thank U, Next" = Ariana Grande
6. "This Feeling" – The Chainsmokers feat. Kelsea Ballerini
7. "Taki Taki" = DJ Snake feat. Salena Gomez and Cardi B.
8. "Tequila" – Dan & Shay
Lady Gaga and Bradley Cooper shoot up into the top three!  Post Malone sits at the top of the countdown for the second night in a row. Also, a new debut on the countdown tonight!
NEW: "Tequila" – Dan & Shay
New debut from Dan & Shay as they finally show up on the countdown.   Remember you help determine the countdown with your votes!  You can shoot us a text anytime with your vote at 217-218-0288!