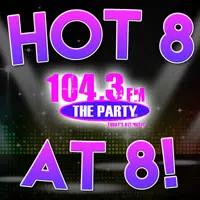 We're back! Already hump day,  middle of the week! We only have tonight and tomorrow left for regular countdowns left of the year.  Friday we will be bringing you the Hot 8@8 of 2018, and Monday we will countdown the top 104 of 2018!  Refresher from Monday's countdown:  Grande held the top spot for 12 nights in a row,  Ellie Goulding is closing in on the top spot, and Zara Larrson is moving up the chains quickly.  See below for the results, brought to you by Smoky's Hosue of BBQ!
1. "Close to Me'" – Ellie Goulding feat. Diplo & Swae Lee
2. "Thank U, Next" = Ariana Grande
3. "Nothing Breaks Like a Heart" – Mark Ronson feat. Miley Cyrus
4. "Ruin My Life" – Zara Larrson
5. "Sicko Mode" – Travi$ Scott
6. "Trust My Lonely" – Alessia Cara
7. "Be Alright" – Dean Lewis
8. "Taki Taki" = DJ Snake feat. Salena Gomez and Cardi B.
Tonight we have a new champion! After twelve straight days, Grande finally falls and Ellie Goulding moves to the top of the countdown!  Zara jumps up to number four, and Travi$ Scott bounced back up three spaces.  Check back tomorrow for the LAST regular countdown of 2018!