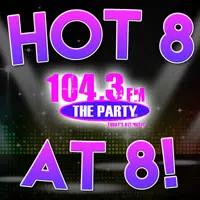 Friday! The first weekend of 2019 so quickly!  Last night, Ellie Goulding extended her streak to two nights in a row here in 2019 and looks to start a hot streak with three nights in a row! Can she pull it off?  Zara Larrson is also a threat now in the top three,  Mark Ronson and Miley Cyrus are very close to seeking out that sweet #1 spot, find out who takes it below, brought to you by Smoky's House of BBQ!
1. "Nothing Breaks Like a Heart" – Mark Ronson feat. Miley Cyrus
2. "Close to Me'" – Ellie Goulding feat. Diplo & Swae Lee
3. "Ruin My Life" – Zara Larrson
4. "Be Alright" – Dean Lewis
5. "8 Letters" =  Why Don't We
6. "Sicko Mode" – Travi$ Scott
7. "Thank U, Next" = Ariana Grande
8. "Sweet But Psycho" – Ava Max
Mark and Miley have done it! A new champion to kick off your weekend! "Nothing Breaks Like a Heart" was voted #1 for the first Friday of 2019,  passing Goulding barely to take the crown and end her week long reign (continued from 2018!)  The two will keep the title over the weekend and seek to start a streak next week!  Elsewhere on the countdown,  Ava Max is passed by Grande,  Why Don't We moves up to #5, and Dean Lewis is seeking out a contender spot in the top three! Vote over the weekend for Monday's countdown by texting 217-218-0288!