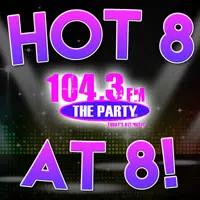 Happy Monday! Your votes from the weekend have been tallied and we are in for a tight race tonight!  If you missed Friday,  Miley Cyrus and Mark Ronson dethroned Ellie Goulding and snapped her streak for the new year.  Zara Larrson held onto the top three though,  all three are dangerous in this tight race!  See below for the results from the weekend, brought to you by Smoky's House of BBQ!
1. "Close to Me'" – Ellie Goulding feat. Diplo & Swae Lee
2. "Ruin My Life" – Zara Larrson
3. "Nothing Breaks Like a Heart" – Mark Ronson feat. Miley Cyrus
4. "Be Alright" – Dean Lewis
5. "8 Letters" =  Why Don't We
6. "Sicko Mode" – Travi$ Scott
7. "Sweet But Psycho" – Ava Max
8. "Mia" = Bad Bunny feat. Drake
Lots has happened at the top of the countdown, but first let's address the new debut!
NEW: "Mia" = Bad Bunny feat. Drake 
Bad Bunny finds the countdown and -hops- on the opportunity with Drake taggin' along!  Grande falling off in return.  The top of the countdown is where we see the real mix-up!  Ellie Goulding moves back to #1 and ceases the title back,  Zara Larrson pushing up past the duo as well!  How will tomorrow look? Remember to vote for the countdown now by texting 217-218-0288!